Shoot the journalists: #Syria's lesson from the Arab spring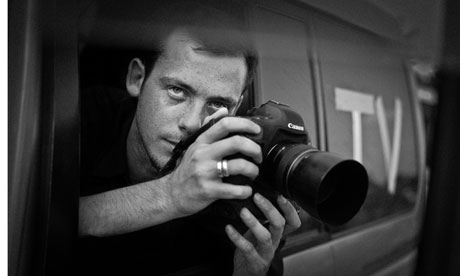 Rémi Ochlik, a French photographer who died alongside Marie Colvin in Homs. Photograph: Lucas Dolega/AP
The Observer, Sunday 26 February 2012
The media centre in the Homs suburb of Baba Amr is nothing more than a family house. Once it had four storeys and a satellite dish on the roof. Reporters, photographers and cameramen had been forced to move there after their previous bolthole came under attack.
Two weeks ago, the top of the house was reduced to rubble during a visit by a CNN television crew, who had placed their own dishes there to broadcast live footage. The assault continued until the dishes were knocked down.
If other evidence were needed that the building had been targeted, before the attack last week that led to the deaths of the Sunday Times correspondent Marie Colvin and the French photographer Rémi Ochlik, it was supplied by another of the group that travelled to Homs with them, Jean-Pierre Perrin, who described how the building's own dish had been peppered with sniper rounds.
Even after their deaths, the regime has continued to attack Colvin and Ochlik. Footage was shown on state television on Saturday of their bodies, accusing them of being "spies."
The regime of Bashar al-Assad has learned the lessons of the Arab spring when it comes to dealing with the media – both citizen journalists and international outlets. As the Committee to Protect Journalists noted in a 2011 report, the regime quickly "enforced an effective media blackout" as soon as the protests began last March.
It banned, arrested and expelled international journalists and detained local reporters who tried to cover the protests.
It disabled mobile phones, landlines, electricity, and the internet in cities where the protests broke out, and used violence to extract the passwords of social media sites from journalists, allowing the Syrian electronic army, a pro-government online group, to hack the sites and post pro-regime comments. "In April," the report continues, "al-Jazeera suspended its Damascus bureau after several of its journalists were harassed and received threats.
Three days after the brutal assault of the famed cartoonist Ali Ferzat in August, the government passed a new media law that 'banned' the imprisonment of journalists and allowed greater freedom of expression. It followed this by jailing several journalists. In November, cameraman Ferzat Jarban was the first journalist to be killed in Syria in connection with his work since the committee began keeping detailed records in 1992.
If Jarban was the first, he has not been the last. Gilles Jacquier, a French cameraman, was killed in Homs in January, while on a government sponsored press trip, a killing first blamed on opposition fighters but later blamed on the regime by two Swiss colleagues who accused the soldiers accompanying them of leading them into an "elaborate trap".
The regime went further. Those who had entered the country before, such as Anthony Shadid of the New York Times – who collapsed and died in Syria a few days before Colvin's death – were denounced on Syrian state television as "spies", while those visiting Homs illegally were warned that they would be killed by the regime.
Last week, all the evidence now suggests that the regime delivered on its promise, targeting not just the latest group of foreign reporters to visit Homs but also Rami al-Sayyed, a citizen journalist whose video link to Baba Amr had kept news of events in the city in the forefront of the world's attention.
The war in Syria has become not simply a conflict between a brutal regime and those who want to see it fall, but a war on information itself: a calculated desire to destroy the fractured opposition's centres and erase all knowledge of what happened.
On Friday the difficulties of reporting from Homs were reinforced in a series of tweets by Javier Espinosa of the Spanish newspaper El Mundo, who survived uninjured in the attack that killed and injured four colleagues, including Colvin, last week. He described drones flying overhead guiding the bombing of the suburb, saying: "I would love to interview who is launching the mortars right now. What he thinks when he is sending tons of shrapnel to kill people."
Asked to describe the drone, Espinosa said it was too dangerous to "get my head from where I am hiding".
Assad's war on the media, like that on his people, is unlikely to be successful in the long run. Journalists may have been pushed out of Syria, but it seems certain they will return yet more determined to tell the world what is happening.
As for the regime, Assad's ferocious tactics may be making short-term gains but in the long term the outcome is most likely to be the fall of his regime, the Chatham House thinktank said in the Political Outlook for Syria, a report last week. The question now is not if but when. And also in what circumstances.
As the "Friends of Syria" meeting ended in disarray in Tunis on Friday, it was not with suggestions about how to bring the violence to an end but amid threats from two key regional actors – Saudi Arabia and Qatar – who said that they supported military escalation against Assad. In doing so they have raised the terrifying spectre of a proxy war with Shia Iran, Assad's remaining regional ally, now that even Hamas has formally backed the uprising.
The remarks of the two countries – including a Saudi statement, before its delegation walked out of the conference, that arming the opposition was an "excellent idea" – came only hours after the disclosure by rebel sources that they were already receiving foreign arms and equipment.
The Saudi threat to arm the opposition has come amid increasing rhetoric from the US – including the US secretary of state Hillary Clinton's description of Russia's blocking tactics as "despicable". In a subtle shift in policy, US officials, quoted by the Washington Post, said that "steps toward arming the opposition were likely to become a reality the [US] would not oppose if the Syrian leader does not yield."
The Saudi intervention on Friday should not, perhaps, have been surprising. The day before, in a telephone call, King Abdullah told the Russian president Dmitri Medvedev in the bluntest terms that discussion on the issue was "useless", and criticised Russia for not co-ordinating with Arab states before vetoing a UN security council resolution. All of which appears to confirm the view of some regional analysts that Saudi Arabia decided some time ago that intervention was inevitable.
Another challenge facing the regime is not direct intervention by neighbours but an ever-growing isolation. The regime has been told that it is no longer welcome at the next Arab league summit in Baghdad. The move by Hamas, which for long kept its political bureau in Damascus, meant that there was now no Sunni group or government allied with the regime.
Russia too – despite its objection to intervention and its veto – in recent days has shown increasing frustration, calling for a ceasefire, although it has continued to supply weapons.
Few even among the closest observers of Syria have any certainty, however, of the endgame. The Chatham House report lists a menu of potential scenarios, from the survival of a deeply "embattled and unpopular" regime for several years, to a coup of Alawite officers against the Assad family, to various kinds of collapse that include a Yemen-style implosion.
And if the authors are cautious about predicting an outcome, they are deeply sceptical too about the opposition Syrian National Council. Britain and other governments recognised the council in Tunis on Friday as a "legitimate representative" of the Syrian people.
But the authors describe the group as "not necessarily representative of Syrians" and report concern that "it has focused excessively on wooing international support rather than building domestic strength". Overall, the message is clear, reinforced by the fallout from Tunis: the outcome in Syria is unpredictable and likely to be extremely messy.
None of this will bring comfort to civilians trapped in Syria by the fighting, or the two injured journalists, Paul Conroy of the Sunday Times and Frenchwoman Edith Bouvier, as they await evacuation from Homs.
While the Red Cross evacuated a small number of wounded women and children from the city on Friday, and was in negotiations on Saturday to bring out more, the attacks continued as the military took its bombardment of rebel-held Baba Amr into a fourth week.
Nadir al-Husseini, an opposition activist in the city, described desperate conditions in Baba Amr. "It would be good if they [the Red Cross] could bring in some aid. But even if they brought us some medical supplies how much would it really help?" he told the Reuters news agency. "We have hundreds of wounded people crammed into houses all around the neighbourhood. People are dying from lack of blood because we just don't have the capability of treating everyone. I don't think any amount they could bring in would really help."
The description of conditions in Baba Amr, which has been hit by Russian-made 240mm mortars – the world's largest – came as others in the city condemned the Tunis meeting.
"They [world leaders] are still giving opportunities to this man who is killing us and has already killed thousands of people," said Husseini. "I've completely lost faith in everyone but God. But in spite of that, I know we will continue this uprising. We'll die trying before we give up," he said. "The shelling is just like it was yesterday. We have had 22 days of this. The women and children are all hiding in basements."
"No one would dare try to flee the neighbourhood, that is instant death. You'd have to get past snipers and soldiers. Then there is a trench that surrounds our neighbourhood and a few others. Then you have to go past more troops."
For now the suffering of Homs continues without an end in sight.
Sunday Times war correspondent Marie Colvin and French photographer Rémi Ochlik died in Homs last week, bringing the death toll of journalists in Syria this year alone to six.
In 2011 at least 66 journalists were killed around the world as a result of their work, a 16% rise on the previous year, with 17 deaths among reporters covering the Arab spring uprisings. Ten deaths in Pakistan marked the heaviest loss in a single country. Libya claimed five lives, including award-winning British photojournalist Tim Hetherington, and al-Jazeera cameraman Ali Hassan al-Jaber.
Putin's Russia is an increasingly dangerous place for journalists with extreme limits on freedom of expression. Forty-nine have died since 1992, including Kremlin critic Anna Politkovskaya, shot dead in 2006.
The most deadly country for journalists in the past 10 years has been Iraq, where 151 have been killed since 1992. Coming a bloody second is the Philippines, where 72 have been murdered. Covering human rights as a journalist is more deadly than covering crime, war or corruption.
Street protests in other countries such as Greece, Belarus, Uganda, Chile and the US were responsible for a surge in arrests, from 535 in 2010 to 1,044 in 2011, according to Reporters Without Borders.
Ethiopia was criticised last year for jailing two Swedish journalists covering the insurgency on its border with Somalia. The country is causing increasing international concern with its harsh policies towards its own press.
Nine online journalists were killed for their work in 2011, including Mexican reporter MarÍa Elizabeth MacÍas Castro, whose decapitated body was found near Nuevo Laredo, with a note stating she had been murdered for reporting on social media websites. Mexico has at least 11 journalists reported missing, feared dead.
Source : Committee to Protect Journalists