#Syria - Top envoy Brahimi meets Syria's Assad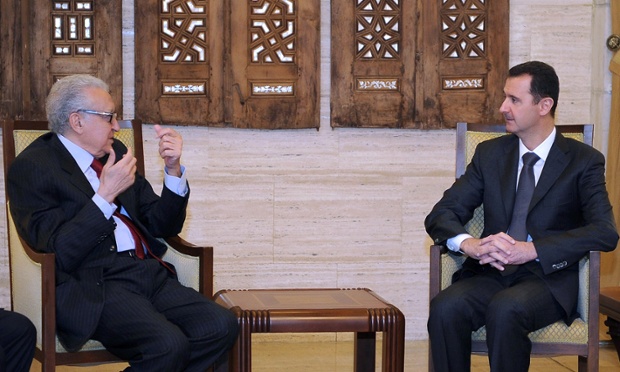 Joint UN-Arab League representative meets with Syrian president after dozens are killed in air strike on a bakery queue.
Lakhdar Brahimi, the UN-Arab League envoy to Syria, has met with Bashar al-Assad, the Syrian president, in Damascus, a day after an air strike killed dozens of civilians in Hama province.
"I had the honour to meet the president and as usual we exchanged views on the many steps to be taken in the future," Brahimi told reporters at his hotel in Damascus on Monday.
"Assad expressed his views on the situation and I told him about my meetings with leaders in the region and outside," said the veteran Algerian diplomat, who took over his present task from former UN chief Kofi Annan.
Assad described his meeting with Brahimi as "friendly and constructive", according to state television.
"The government is committed to ensure the success of all efforts aimed at protecting the sovereignty and independence of the country," Assad said. State news agency SANA said Foreign Minister Walid Muallem, his deputy Faisal Muqdad and presidential advisor Buthaina Shaaban all attended Assad's meetings with Brahimi.
Brahimi arrived in Syria on Sunday from neighbouring Lebanon. He had last visited the country on October 19.
Bakery air strike
On Sunday, anti-government activists in the town of Halfaya said that at least 90 people had been killed in an air strike on a bakery in the central Syrian town.
Halfaya was seized by rebels few days ago as part of a campaign to push into new territories in the 21-month-old revolt against President Bashar al-Assad.
Mousab al-Hamadee, an activist in the suburbs of Hama, told Al Jazeera that Halfaya and nearby towns have witnessed heavy shelling since rebels began advancing in the province.
Samer al-Hamawi, an activist in the town, said that more than 1,000 people had been queueing at the bakery. Shortages of fuel and flour have made bread production erratic across the country, and people often wait for hours to buy loaves.
"We hadn't received flour in around three days so everyone was going to the bakery today, and lots of them were women and children," Hamawi said.
'Terrorist attack'
Syrian state media, however, disputed that account, saying instead that a "terrorist" group had carried out the attack.
SANA, the country's official news agency, citing residents of the town located in the central province of Hama, said: "An armed terrorist group attacked the town of Halfaya committing crimes against the population, killing many women and children."
The report added that the Syrian army intervened during the assault and "killed and wounded many terrorists", a term Syrian officials and state media use to refer to rebels fighting to oust the Assad government.
"Terrorists then shot video images to accuse the Syrian army when the international envoy Lakhdar Brahimi arrived in Syria," the agency said.
The opposition Syrian National Council blamed the international community for "being responsible for this massacre… by not supporting the Syrian people".
Both sides in the Syrian conflict have been accused by rights groups of carrying out attacks that could amount to war crimes, including summary executions and attacks on civilians.
12/24/2012